26 January, 2017
Top Uses for Lemon Oil
Posted in :
dōTERRA Essential Oils
on
by :
BevG
Tags:
Baking Soda
,
cleanse
,
DIY
,
doTERRA
,
Essential Oil
,
EssentialOils
,
Face Wash
,
Gargle
,
Goo
,
GooBeGone
,
Grease
,
GreasyHands
,
Laundry
,
Lemon
,
Mood Booster
,
Purify
,
Rinse
,
Sore Throat
,
Stovetop Cleaner
,
Water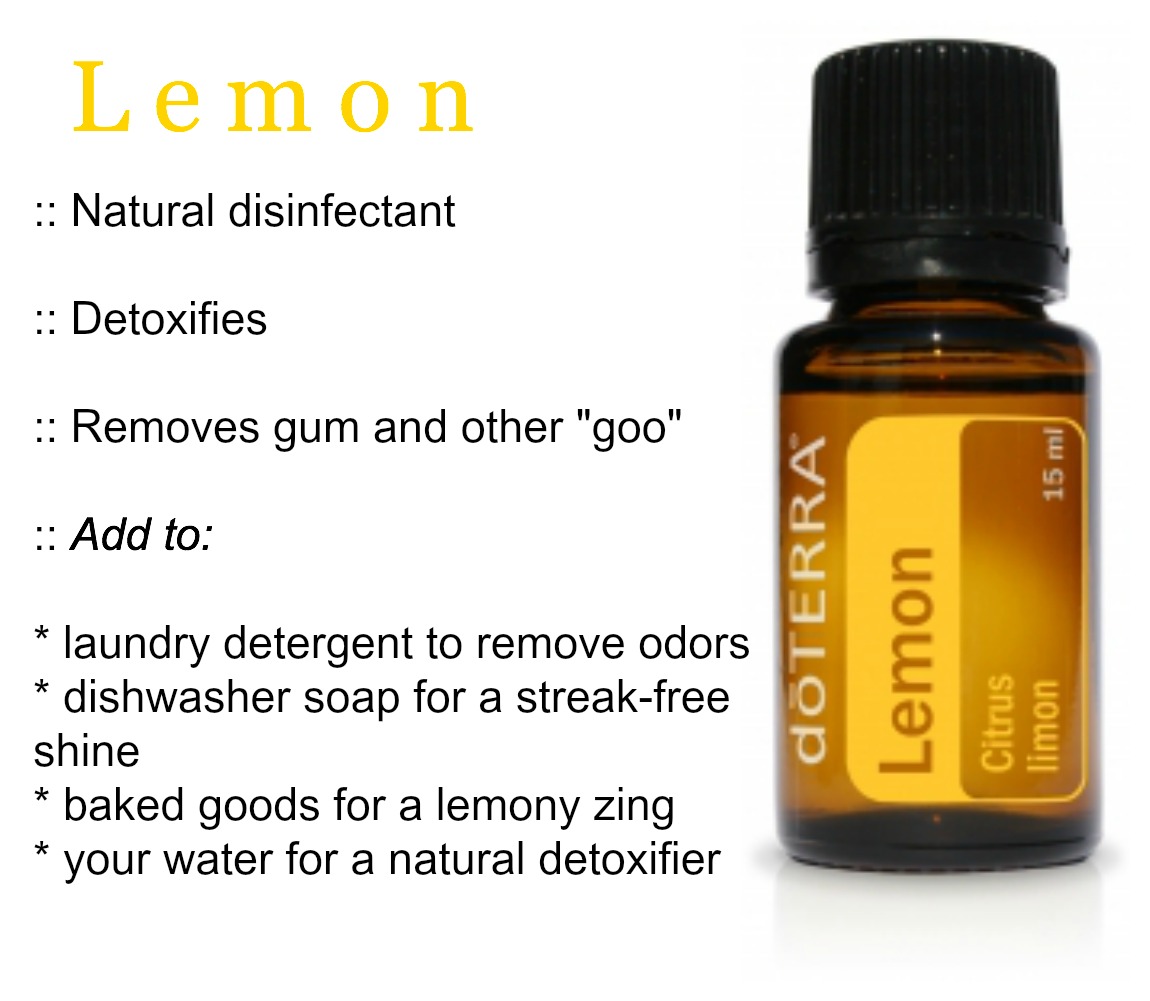 Lemon oil is one of the oils that people often start with when they start using essential oils.
Did you know there is the equivalent of 42 lemons in just one 15ml bottle of lemon oil?? That's amazing!!
But, what are you going to do with 15ml of oil? It's a pretty small bottle, 250 drops to be exact!
Because dōTERRA's essential oils are pure, a little goes a long way!
My top uses for lemon oil are:
Put it in your water…lemon in your water is great, but if you use lemon oil, you have no waste and you don't have to remember to cut it up! Lemon oil helps to relieve colds and coughs!
Clean your fruits and veggies! If you wash your fruits and veg before eating them, all you need is a sink of water, 1 cup of apple cider vinegar and 10 drops of lemon oil. Let your produce soak for 10 minutes and rinse. Don't do this with your berries as they are very thin skinned and will take on the lemon oil.
Use lemon oil as a goo remover! It's AMAZING! That sticky residue left when you take a price tag off something? Gone! Stickers on the kids headboard? Like they were never there!
Lemon oil and baking soda are great for a ceramic top stove.
Diffuse lemon oil for an uplifting mood booster! You can find more diffuser blends here!
I put lemon oil in my drain to help disinfect it…this is great in the summer when the fruit flies are around.
Left your laundry in the washer overnight? No problem! Add a couple of drops of oil to the inner barrel of the washer and do a quick rinse, the clothes and washer will smell great! (You can also use Purify for this)
Gargle lemon oil and water for a sore throat
Mix make lemon oil with baking soda and honey for a natural face wash.
Wash hands with Lemon oil to remove grease after automotive repairs.
There is so many great uses for lemon oil! If you have any questions about dōTERRA, lemon oil or any other oils, please comment below!
Happy oiling!