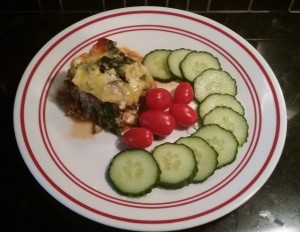 Mushroom Lasagna
We make this quite often for lunches. It's super tasty and gluten free!
Ingredients
1 lbs. ground turkey
1/2 tsp. Italian herbs
8 oz. fresh sliced mushrooms (any kind you have on hand will work)
1 tbs. unsalted butter
4 c. fresh spinach
15 oz. low sodium tomato sauce
1 c. low-fat ricotta cheese
1 egg
1/2 tsp. garlic powder
1 c. cheese, shredded, any type
Directions
Preheat oven to 375 F. In a skillet, brown ground turkey and add Italian seasoning. Put in a bowl. In same skillet, melt 1 tbsp butter and sauté mushrooms until tender. Place in another bowl.
In the same skillet wilt the 4 cups of packed spinach. Drain any water that accumulates from spinach or mushrooms, set aside.
In one more dish add ricotta cheese, egg and garlic salt. Mix well and set aside.
In a 2 quart casserole dish, add a cup of sauce in the bottom of the pan. Add a layer of turkey, then spinach, mushrooms, and a layer of ricotta. Sprinkle with a little raw cheese and repeat layers starting with the sauce 2-3 more times (depending on how thick your layers are). Top the final layer with remaining raw cheese, cover with aluminum foil and bake for 35 minutes.
After 35 minutes, remove cover and cook uncovered for 10-15 more minutes until slightly brown and bubbly.