Baked Margherita Spaghetti Squash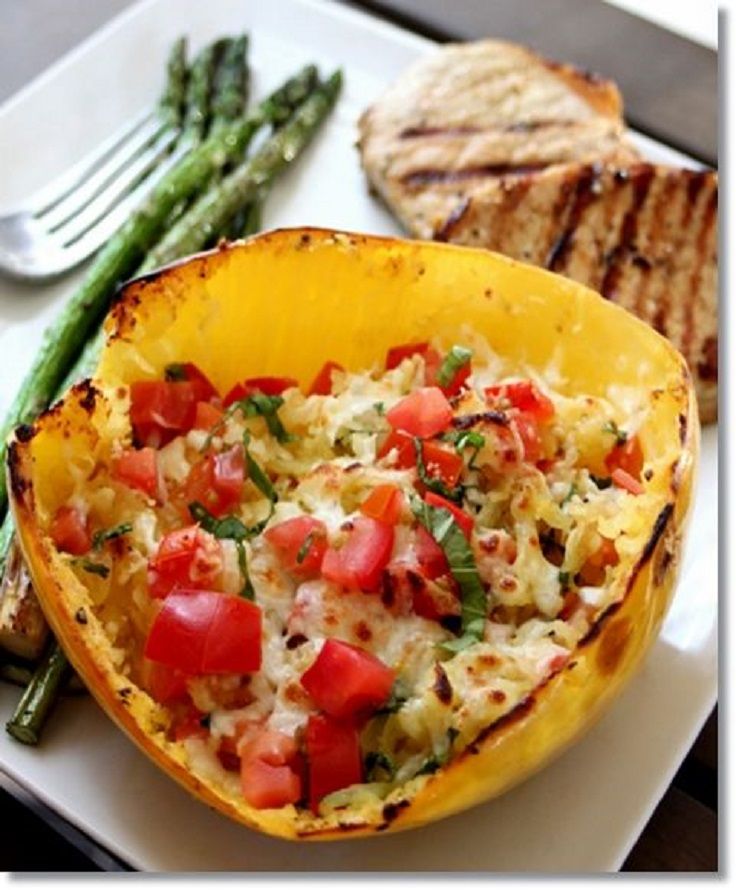 Ingredients
1 large spaghetti squash
2 tbsp olive oil
1 large Roma tomato, finely chopped
2 tbsp finely chopped fresh basil
1/4 cup shredded mozzarella cheese
1 tsp each salt & pepper
1 tsp garlic powder
Directions
Preheat the oven to 400 degrees.
Slice the spaghetti squash in half lengthwise and use a spoon to remove the seeds and centre strings.
Drizzle the two halves with olive oil and then sprinkle with salt, pepper and garlic powder.
Place the squash, skin side up on a cookie sheet and bake for 30  minutes
Remove from the oven, check to see if the squash is soft and  easily comes up with a fork into a spaghetti like texture. If it's too hard to remove, cook for another 10 minutes.
Remove from the oven, scrape and fluff the stringy squash with a fork. Leave the squash in the skin.
Turn the oven up to broil.
Place the tomatoes and basil into the squash, stir and top with the mozzarella cheese.
Place under  the broiler for 3-4 minutes, until the cheese is melted and slightly  browned.
Allow to cool for 5 minutes before serving the squash.