Sweet Potato Shepherds Pie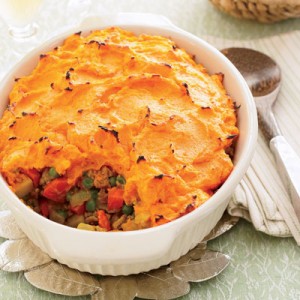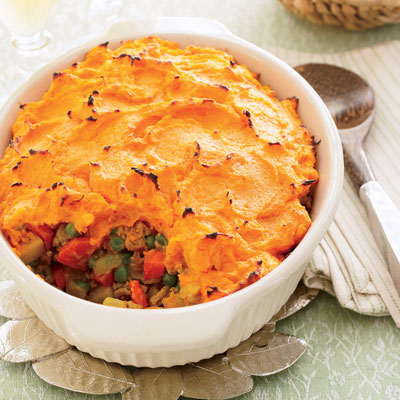 Ingredients: 
For the potatoes:
1 1/2 lbs sweet potatoes – peeled & diced
3 cloves garlic
1/2 cup milk
1/4 cup low-sodium chicken broth
2 tbsp fat-free sour cream
salt and pepper to taste
For the filling: 
1 lb lean ground turkey
1 tsp coconut oil
1 medium onion – diced
1 celery stalk – chopped
1 carrot – diced
2 cloves garlic – diced
8 oz mushrooms – diced
10 oz frozen mixed vegetables (edamame, peas, carrots, corn)
2 tbsp arrowroot
1 cup low-sodium chicken broth
2 tsp low-sodium tomato paste
1 tsp Worcestershire sauce
1 tsp freshly chopped rosemary
salt and pepper
paprika
Directions
Preheat oven to 400°F.  Boil sweet potatoes and garlic in a pot of salted water until cooked and soft. Drain and mash with chicken broth, sour cream, salt and pepper.  
In a large saute pan brown turkey; season with salt and pepper. When cooked, set aside on a plate. Add coconut oil to the pan, then add the onion and sauté until onions are translucent.  Add celery, carrots, salt and pepper to taste; cook about 12 minutes, until celery is soft.
Add garlic and mushrooms; sauté another 3-4 minutes. Add arrowroot, salt and pepper and mix well. Add frozen vegetables, chicken broth, tomato paste, Worcestershire sauce, rosemary, cooked turkey, and mix well. Simmer on low about 5-10 minutes. 
In a 9X9 pan add the meat mixture and top each with the mashed sweet potatoes. Bake 20 minutes or until potatoes turn golden. Remove from oven and let it cool 10 minutes before serving.