When you need a but of a break from plain chicken at lunch, these are tasty and pair well with a salad!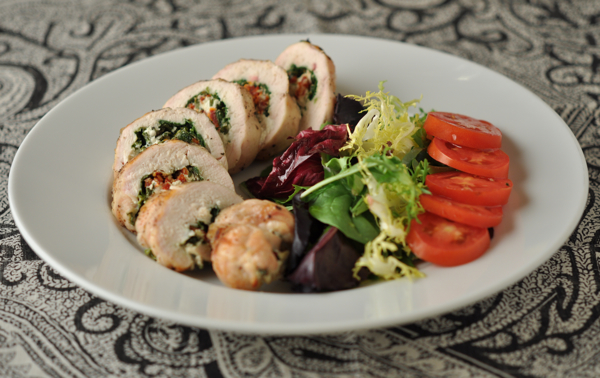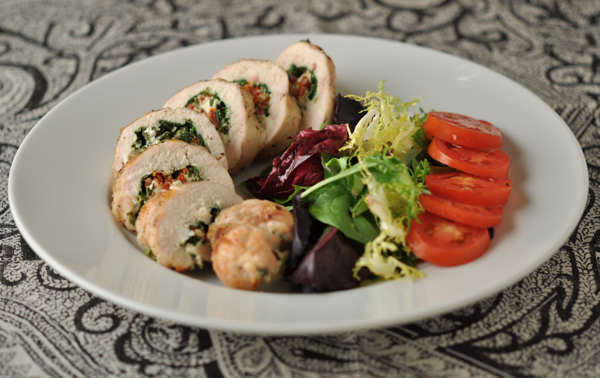 Ingredients
4 (4-ounce) skinless, boneless chicken breast halves
2 tablespoons cooked quinoa (I usually set it aside when I'm making it for supper)
1/4 cup thinly sliced fresh basil
2 tablespoons crumbled feta cheese
2 tablespoons finely chopped sweet red pepper
1 tablespoon softened cream cheese
3/8 teaspoon sea salt
1/4 teaspoon black pepper
1 tablespoon olive oil
Preparation
1. Preheat oven to 400°.
2. Combine quinoa, basil, feta, red pepper, and cream cheese in a small bowl. Cut a horizontal slit through the thickest portion of each chicken breast half to form a deep pocket. Stuff 2 tablespoons quinoa mixture into each pocket; secure with a wooden pick. Sprinkle chicken evenly with salt and black pepper.
3. Heat a large skillet over medium-high heat. Add oil; swirl to coat. Add chicken; cook 4 minutes. Turn chicken over. Place pan in oven; bake at 400° for 10 minutes or until done. Let stand 5 minutes. Discard wooden picks. Cut chicken diagonally into 1/2-inch-thick slices, if desired. Drizzle pan juices over each serving.