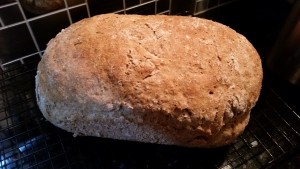 Irish Brown Bread
I made this for a friend of mine that was missing brown bread from home. It was super easy to make!
Ingredients
1 1/2 cups warm water
1 tbsp molasses
8-g pkg active dry yeast
3 1/2 cups whole wheat flour
1 tsp salt
Directions
Spray an 8 × 4-in. metal loaf pan with oil.
Stir 1/2 cup water with molasses and yeast in a large bowl until combined. Let stand, 10 min. Stir in flour, remaining water and salt, using a wooden spoon, until combined. Transfer dough to a floured counter. Knead once or twice, then shape into a log. Place in prepared pan. Cover with a damp towel and let rise until doubled in size, about 45 min.
Preheat oven to 400F. Bake in centre of oven until golden, 45 to 50 min. Let stand, 5 min. Turn loaf out onto a rack and let cool completely, about 1 hour.
Reproduced from Chatelaine: Irish Brown Bread